Films in 1999 (Part 3)
Click HERE for Part 1 and HERE for Part 2



LAST NIGHT


(1999)
Directed by Don McKellar
Distributed by Lion's Gate Films
Cast: Don McKellar, Sandra Oh, Callum Keith Rennie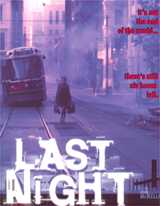 This is an upcoming featuring Sandra Oh in one of the leading roles and is scheduled to be released on November 5, 1999. Last Night is a bittersweet, emotional and wry drama about how people choose to spend their final hours before an impending apocalypse. Spending the end with loved ones, private contemplation, having sex, or partying?
McKellar explores the human element, exploring the ideas of living life until the end and having the characters come to terms with their lives and themselves. Look forward to seeing the release of this film in the Fall of 1999. Check out their website at http://www.lastnight.net/index_general40.html.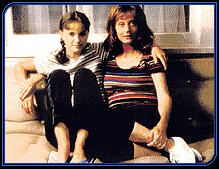 ANYWHERE

(1999)
Directed by Wayne Wang
Producer: Lawrence Mark
Cast: Susan Sarandon, Natalie Portman, Hart Bochner, Shawn Hatosy

This film, scheduled for release in the Fall of 1999, features Wayne Wang directing this first-class script in a family struggle in Beverly Hills.

The story is as follows: Fleeing small-town boredom, a restless mother (Sarandon) drags her reluctant teenage daughter (Portman) to Beverly Hills and a new and sometimes difficult life. Adjusting to their new environs and ever-changing relationship, mother and daughter struggle together. They finally reach an understanding as the daughter prepares to leave for college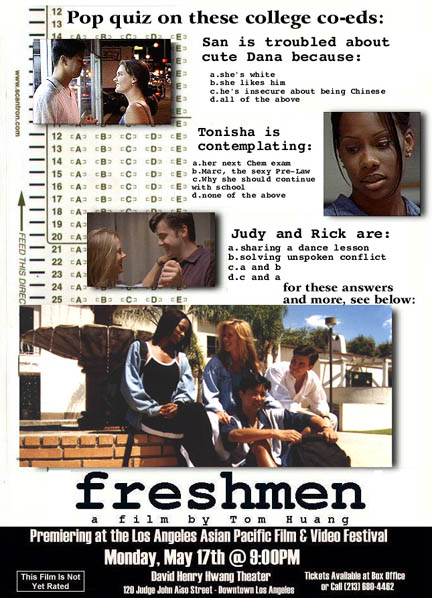 FRESHMAN

(1999)
Written, Directed, and Produced by Tom Huang
Cast: N.D. Brown, Tom Huang, Kurt Kohler, Margaret Scarborough, Wendy Speake, Mary Chen, Richard Guiton, Jake White, Sonya Leslie, Patrick Gorman, Deborah Kellar, Billee Thomas, Kim Robinson, Lowell Dean, Brenda Liu, Ming Lo, Eugene Lo, Stephen Owsley, Kelly McGowan, Ian Simeoneon, Kal Penn, Steve Callaghan, Ed Matz

"Freshmen" follows the lives four incoming freshmen from different backgrounds and different journeys: San Ling, a Chinese-American who is obsessed with pop-icon Billy Joel and loathes his Chinese side; Tonisha Watkins, an inner-city prodigy who struggles between being a pre-med student and paying the family bills; Rick Kennedy, a conservative East Coast transplant who wrestles with multi-cultural university life and dealing with a career choice he doesn't want anymore; and Judy Oz, a free-spirited party girl who takes on the college social scene until it spirals out of her control.
We follow the four as they meet and interact in a history discussion class, as well as watching their stories as they continue, with and without each other, outside the classroom. The film depicts the poignant moments in their first quarter of school that forces them to grow up bit by bit; sometimes it is painful, but often it is humorous and touching, the of sum of which adds up to a major turning point in thier lives.



RIDE WITH THE DEVIL

(1999)
Directed by Ang Lee
Distributed by Universal Pictures & Good Machine Productions
Cast: Skeet Ulrich, Tobey Maguire, Jeffrey Wright, Jonathan Rhys Meyers, Simon Baker-Denny, James Caviezel. and Jewel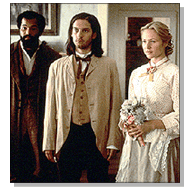 A coming-of-age story, Ride With the Devil follows the lives of a young Missouri man and his gang of misfits as they become caught up in the strife along the Kansas/Missouri border during the Civil War. Together they find the friendship, loyalty and sense of family needed to survive during such desperate times, while learning about responsibility, love and loss. Read a review by Roger Ebert by clicking HERE!



(1999)
Directed by M. Night Shyamalan
Written by M. Night Shyamalan
Produced by Frank Marshall, Kathleen Kennedy, and Barry Mendel
Cast: Bruce Willis, Toni Collette, Olivia Williams, Haley Joel Osment
Check out this (Walt Disney Home Video / Buena Vista Home Entertainment) film that was written and directed by M. Night Shyamalan - a person of Indian descent and photographed by the award-winning . In fact, if you watched the film closely, you will see the director, himself, and his family in one scene of the movie.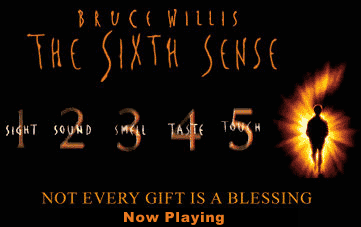 PLOT: In this chilling psychological thriller, eight-year-old Cole Sear (Haley Joel Osment) is haunted by a dark secret: He is visited by ghosts. A helpless and reluctant channel, Cole is terrified by threatening visitations from those with unresolved problems who appear from the shadows. Confused by his paranormal powers, Cole is too young to understand his purpose and too terrified to tell anyone about his torment, except child psychologist Dr. Malcolm Crowe (Bruce Willis). As Dr. Crowe tries to uncover the ominous truth about Cole's supernatural abilities, the consequence for client and therapist is a jolt that awakens them both to something harrowing -- and unexplainable.
Click HERE to purchase a copy of this movie. Click HERE to find out why George Lucas, Steven Spielberg and Harrison Ford are interested in having M.Night Shayamalan write the fourth "Indiana Jones" movie!

TAK FUJIMOTO


"Tak is a master of the proper use of blending in-camera and visual effects techniques," states Steve Rundell of D-Rex - who has worked with him on many projects.
Tak Fujimoto is an award-winning Japanese-American director of photography who is considered one of the most talented camera operators in Hollywood and a fan of the "less-is-more" school of filmmaking. Tak is perhaps best known for his work with filmmaker Jonathan Demme through films such as Philadelphia, Silence of the Lambs, Married to the Mob, Something Wild, Swing Shift, Last Embrace and Caged Heat.
His rise to the top was a long one. A graduate of the prestigious London Film School, Fujimoto first worked as an assistant to Haskell Wexler on television projects and then with Jonathan Demme on several B-pictures.
He made his debut as full cinematographer on Badlands (1973). His other credits include The Silence of the Lambs (1991), Philadelphia (1993), and The Sixth Sense (1999), for which he won the American Society of Cinematographers award for Outstanding Achievement in Cinematography in Theatrical Releases.
He has also worked with such well-known directors as Terrence Malick, Jonathan Kaplan, John Hughes and George Armitage, with credits including Night and the City, Gladiator, Miami Blues, Sweet Hearts Dance, Cocoon: The Return, Pretty in Pink, Ferris Bueller's Day Off, Heart Like a Wheel, Death Race 2000 and Badlands.